jesus loves fireworks and hot dogs. and me.
it's rainy and wet and crappy here on the jolly old 4th. take that america! you suck! even mother nature thinks so! go blow some fireworks, losers.
ryland did ride a big kid bike for the first time today… albeit a girl's one. but he's totally okay with it.
see?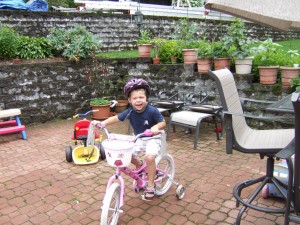 totally okay.
his dad, not so much. when g said we'd go get him a nice big boy bike, a cool red or black one, ry said, "no, pink! we get a pink one." ha!
I wonder though, why does liking pink somehow insinuate you are gay, even at age four?